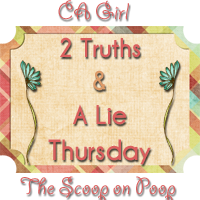 Welcome! Tell 2 truths and a lie and make us guess which is the lie.
You've played this game before, so why not join
The Scoop on Poop
and
CA Girl
every Thursday by:
Grabbing the handy little button on the sidebar
Posting your 2 truths and a lie
Link up
Reveal your lie the next week!
Visit others who link up and leave a comment guessing their lie.
It's that easy!! You know you want to play!! Link up today!!
Last Weeks Truths and Lies
1. I once got 4 speeding tickets in the span of 1 week
TRUE - I was 17 and foolish... 3 of them were on the same road and when my dad asked how that was possible I told him "I wouldn't have been speeding if they would just raise the speed limit!"
2. In high school I was lead singer for a garage band called "Suitor Number 3"
FALSE - I can't sing. I wish I could but I just can't. If I was lead singer for a band, it would have to be some sort of joke!
3. I used to make a living by selling "romantic massage tools"
TRUE - I was a consultant for Passion Parties for about a year after my boyfriend at the time talked me in to it. I was good at direct selling but after awhile I got tired about talking about such things. lol
2 Truths and a Lie
1. I once hooked my brother on a fish hook
2. I hate milk but I still drank it when I was pregnant
3. I'm allergic to chocolate
Which is the lie?